With the festive season barely behind us, Valentines day is unmistakably rearing its head around the corner, given the retail stores not-so-subtle placement of fancy ribbon adorned chocolates and teddies strategically placed to catch your eye, all over the place! But what to do this year? Here are some ideas to play around with….and a WONDERFUL GIVEAWAY AT THE END……you're welcome 🙂 
Oyster Box Hotel – Valentine's Dinner Dance –  12, 13 and 14 February
They Oyster Box Hotel has an offer for Valentines weekend. They say "celebrate Valentine's weekend with us at The Oyster Box. Romance is on the menu for our three Dinner & Dance events, which includes a six-course plated menu, dancing to a live band and a gift".
Time:19h00 – 22h00
Venue:The Grill Room
Price: R 950 per person (including 6-course, plated meal and entertainment)
To make a booking contact restaurant reservations on +27 (0) 31 514 5018 or email restaurants@oysterbox.co.za
Classic Valentines Flowers and Chocolates from Netflorist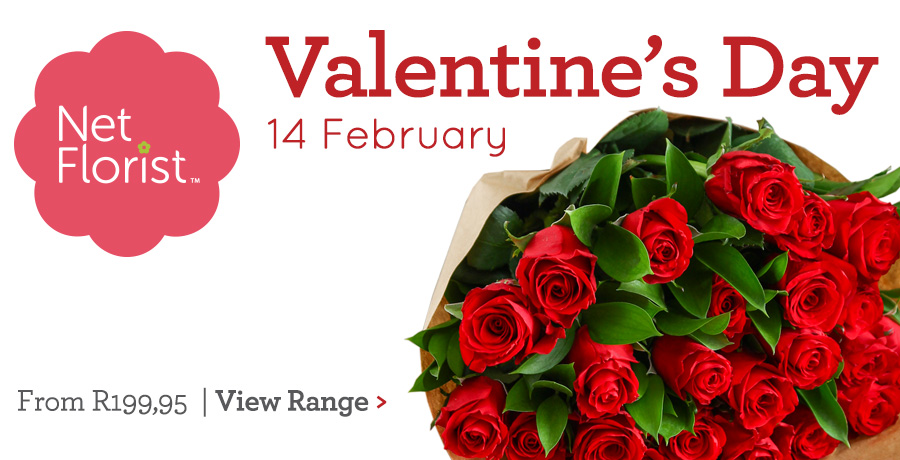 Horseback Beach Adventures
Now this is something different. HBA suggests an "exhilarating beach adventure" on the beautiful Reunion beach in the south of Durban. All rides have at least 1 experienced guide to show you the way and look after you to the best of their ability, and basic instruction is given on every ride. So on every ride, you will learn something new.
Watch the sun setting and the moon rising on the beach from horseback. Enjoy a magical adventure on our 12km horse trail bathed in the light of the moon. These specially romantic and magical rides take you along our regular beach trail, but leaving in the late afternoon when you are likely to see the magnificent changing colours of the sky as the sun is setting over the horizon, experience the magical sight of the moon rising over the sea, and to be able to ride through the bush with only the light of the moon showing you the way and learning to really trust your steed. Suitable for advanced or novice riders. Groups of 2-9 persons.
These rides are available as:
1-The "Snacks and Swim Beach Ride" 3-4hrs long at a cost of R600pp
2- The "Non-stop Beach Ride" 2-3hrs long at a cost of R500pp
3- The "Sundowner Beach Ride" which includes a short stop to enjoy the moment and enjoy a glass of bubbly. 2.5hrs long at a cost of R550pp
4- The "Deluxe Picnic Beach Ride" 3-4hrs long at a cost of R750pp and includes a specially packed romantic Picnic for two.
Email: horsebeachrides@gmail.com
Call or text message on: 0844670752 or 0814779348
Website: http://www.horsebeachrides.co.za/
A special gadget for your special Man from Mantality?  
They have a whole range of gifts for Valentines day! Take a look (tip: remember to place online order a little bit in advance so that your package arrives in time for the 14th…you may even make it for next day delivery! Check it out.. )
Kings and Queens of Comedy – 12 big names, 1 big night!
This comedy showcase it set for the 12th February 2016, at the Durban ICC. In the royal court representing the Kings are Carvin Goldstone, Chester Missing, Dillan Oliphant, Kagiso Lediga, Muthu Murugan, Rory Petzer and Yaaseen Barnes.  And the belles of the ball, the Queens, include Angel Campey, Celeste Ntuli, Krijay Govender and Tumi Morake.
DOING DURBAN IS GIVING AWAY A SET OF TWO (2) TICKETS TO THE KINGS AND QUEENS OF COMEDY SHOW, TO ONE LUCKY WINNER!* ALL YOU NEED TO DO IS COMMENT ON THE DOING DURBAN FACEBOOK POST THAT SHARED THIS LINK WITH THE ANSWER TO THIS QUESTION: 

NAME ONE OF THE COMEDIANS IN THE LINE-UP FOR THE SHOW – SIMPLE AS THAT! WINNERS WILL BE ANNOUNCED ON FRIDAY, 22ND JANUARY 2016 AT 12.

*Winner will be selected at random  
Happy planning.
Love,
Lovanya
PS. CHECK OUT THE NEW LAYOUT OF doingdurban.co.za and tell me what you think! 
 Doing Durban
doing_durban